Professional Gutter Cleaning Services in Kirkland and Greater Seattle
Ladder Heroes has been providing properties in the Seattle area with professional and reliable cleaning services for over four years. Regular gutter cleaning helps protect structures from water damage and is a critical preventative maintenance practice.
Whether you are a residential homeowner or a property manager, you'll be satisfied with our meticulous work and outstanding results. Contact us and get a free quote today!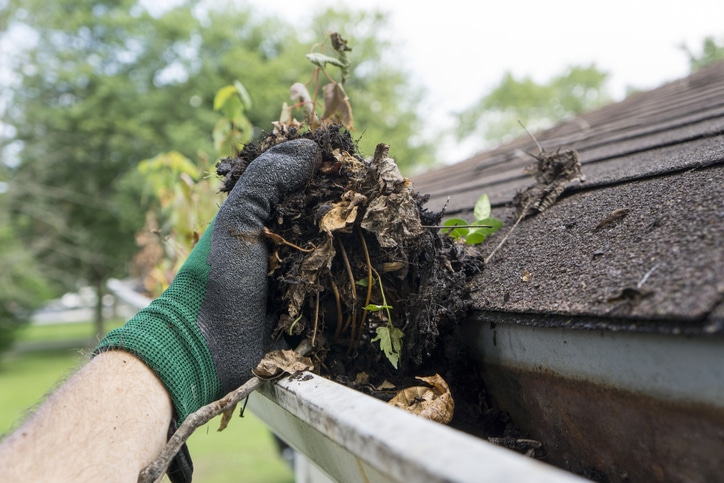 Why is Gutter Cleaning Important?
Water that backs up and overflows in the system due to debris obstruction can cause rot or leaks on roofs and pooling around foundations. This can cause the gutters to become heavy and pull loose, resulting in a unsightly mess – or worse yet, cause damage to your landscaping. Taking care of your gutters on a regular basis is a small investment that can save you from a lot of time and money on home repairs down the road.
How Often Should You Clean Your Gutters?
The frequency and timing varies from property to property, but most homes in the Seattle area are in need of gutter cleaning twice a year. We recommend having them cleaned once in the spring and again in fall.
What Does Gutter Cleaning Involve?
Ladder Heroes' gutter cleaning service includes removing the debris from inside of the gutter system and ensuring the downspouts are clear above ground. If you have gutter screens installed, we can blow debris from the tops and allow water to flow into them to ensure they function properly. Our professional team will clean up the property afterwards and leave you with total peace of mind.

Reliable Gutter & Downspout Cleaning With Ladder Heroes
Get First-Class Service & Outstanding Results
Ladder Heroes aims to serve their customers in a fashion that is convenient and efficient. For those that are busy during normal business hours we offer a quote request form you can fill out through our site any time to receive pricing and availability. We also have friendly office staff who are happy to take your call and answer any questions you may have prior to scheduling.
No matter the size or complexity of the job, at Ladder Heroes we go above and beyond to take care of your property with the utmost care. We use professional grade equipment and our technicians comply with all safety standards.
Once the job is completed, we simply email your invoice and you can mail a check or pay online. We want to make the process of maintaining your home quick and painless and our goal is to make sure you are 100% satisfied with our work.
Gutter Cleaning Service Locations in Greater Seattle
We provide the following Greater Seattle locations with gutter cleaning services:
Get a Free Gutter Cleaning Estimate
Looking for gutter cleaning prices in your area? Call us at 425-654-2566 or fill out our contact form to request a free, no-obligation gutter cleaning estimate for your property.
"My gutters were clogged and overflowing after a wind/rainstorm and I called Ladder Heroes to see if they could help. They had someone out that afternoon to unclog my gutters. Great customer service and super friendly! I'll definitely use them again." – Jay