The Importance of Gutter Cleaning in the Greater Seattle Area
Gutter Cleaning is a crucial part of proper home maintenance. As those of us living in the Greater Seattle area know, fall and winter are wet times! A well-functioning gutter system will help whisk away water from your roof and walls. It's when gutters get clogged that problems begin. A build up of dirt, debris and fallen leaves can completely interrupt the functionality of your house's gutters.
Blockages in your gutter system will lead to runoff roof water. This runoff water can leave unsightly stains and worse. Blockages from clogged gutters can result in costly water damage to your roof, walls and even your house's foundation! These repairs are among some of the costliest upgrades a homeowner can face. Preventative care through regular gutter cleaning is the best way to avoid water damage and protect your home.
At Ladder Heroes we utilize professional grade equipment. Our technicians will safely and effectively remove all built up debris from your gutter system. After removing blockages, we will flush your gutters and downspouts, taking care of any remaining grime.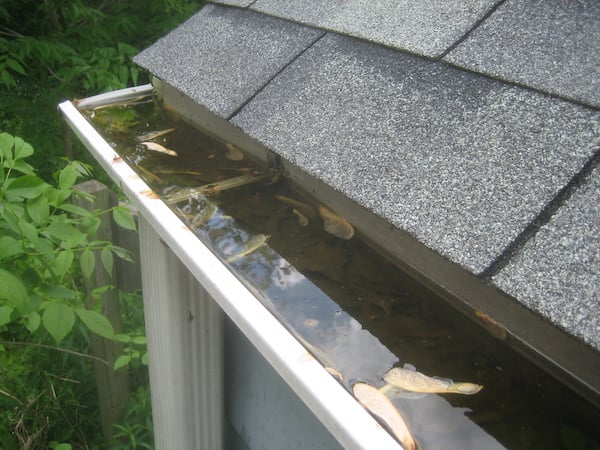 Our technicians are friendly and professional. We work carefully and meticulously and are fully insured. We never rest ladders on your gutters or leave scuffmarks on your deck from a gutter cleaning. Our service will never compromise your landscaping. After gutter cleaning, we will be sure to inspect the area and leave it in a better condition than when we arrived.
We pride ourselves in our work. Let us help to protect and care for your home through qualified and proficient gutter cleaning.
Are you fortunate to live in the Kirkland, Redmond, Bellevue, Medina, Clyde Hill, Yarrow Point & Hunts Point areas of Greater Seattle? If so, please feel free to contact us for a gutter cleaning quote today!
Image sources: Kyle Van Horn & Eric Schmuttenmaer